Cleartec® Module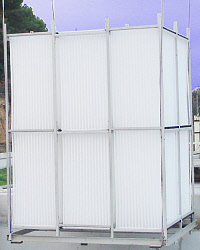 Cleartec®​ Biotextil is used as a system. The textile is fixed into a stainless steel cage, which can be assembled with aerators if required. A complete Cleartec® Biotextil module consists of:​​​​​​​​​​​​​​​​
1. Stainless steel cage
The stainless steel cage is used as holding construction for Cleartec® Biotextil. The textile has up to four loops – depending on the total length. Cleartec® Biotextil can be fixed into the cage by holding tubes with these loops. Similarly, BioCurlz are fixed into the cage by metall reinforced holding bars. This cage construction can be hoisted out of tank even while operating.
2. Cleartec® growth media
The structure of Cleartec® BioTextil and BioCurlz provides a great inner surface area and ideal conditions for the growth of biofilm. The loops are used for fixing the textile into cage construction. The textile itself can move flexibly in that flow, which provides a steady abrasion of biomass.
3. Diffuser
Aeration of textiles enables an optimal oxygen supply for biomass. Additionally, it provides great flow conditions to keep the flexible textile in motion and contributes to abrasion of biomass. Furthermore, clogging  can be prevented.
Advantages Cleartec® module
Optimal conditions for growth
Easy handling
Longevity and time-saving