FCP/V
VERTICAL SCREW SCREEN WITH COMPACTOR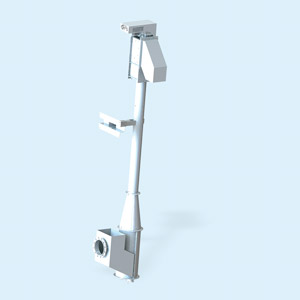 The screw screen, vertical screw screen or screw screen with compactor is a multi-functional machine for fine screening wastewater, for installing in a channel or steel trough, with integrated screening, washing and compaction operations.
The screw screen allows the separation of solids present in wastewater of municipal and industrial plants; This machine is an essential tool for filtering and conveying liquids and loose materials.
Our product is also available in the vertical version (vertical screw screen) and rotary (rotary screw screen), with or without compactor and tank; the screw screens built by SEFT S.r.l. are rugged, stable and can manage water flow containing a high percentage of solids. Besides, all our versions require low maintenance as well as low initial investment.
FCP/V – VERTICAL SCREW SCREEN WITH COMPACTOR
Vertical machine for combined screening, lifting and compaction of the solids present in wastewater. The screw screen intercepts directly the channel or the piping of arrival of water to treat; it is composed by:
A loading zone with cylindrical or semi cylindrical screen connected to the inlet pipe
A tubular transport section
A discharging section with or without compactor
The liquid grilled exits from the basket kept clean by the brushes in nylon bolted on the surface of the screw, while the solids are extracted and discharged. The length of the transport section is variable according to the needs and is available a wide range of holes of filtration.
Advantages
Low speed of rotation and no intermediate supports
Self-cleaning with brushes fit on the screw
Low maintenance and low initial investment
Considerable reduction of volume and weight at the end of processing (up to 35-40%)
High percentage of solid removed