GDE – GDE/D
PRE-TREATMENT COMBINED UNIT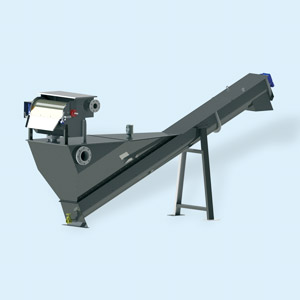 The GDE/D model performs: screening, sand removal, fat and grease manual removing.
GDE o GDE/D could be supplied in 2 models:
CLS sand classifier + FCP/C screw screen in tank, with perforated rounded or wedge wire profile.
CLS sand classifier + GRR drum filter, with wedge wire profile.
Based on the chosen model, pre-treatment combined unit, you can get (it will be possible to get) a different type of screening.
The sewage goes through the screening section for the solid parts removal.
Then the sewage falls down a decantation tank where the particles go down. Here an extraction spiral removes them.
Advantages
Odor-free
No clogging
Low maintenance and operation costs
Low room needed
No construction works needed
Easy to install and operate
Very low residual organic content in the washed out solid
Volume reduction (up to 40%) of the washed out solid
Sand removal: >=90% of particles up to 200 μ