ABR filters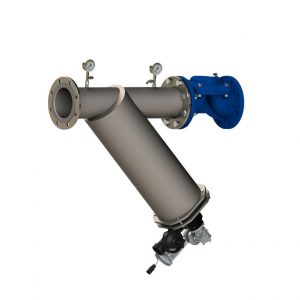 The automatic self-cleaning filter with brushes for the prefiltration of surface and process water containing not-colloidals suspended solids.
Stainless steel housing and filter cartridge
Interchangeable screens with several filtration degrees
Ecomonic and robust choice for automation of filtration
Low inlet pressure requested
Alfa Water ABR filters are automatic filters with a set of brushes mounted on a rotating shaft, driven by an electric motor.
ABR filters can support flow rates of up to 390 m³/h (1717 US gpm) with four sizes of screens up to 5500 cm2, with several screens covering the range of filtration degree between 2000 and 25 µm and with different range of inlet/outlet connections between 2″ and 6″.
Available 2 controllers:
AWC Basic controller (differential pressure and/or preset time and/or manual start, IP54, 4DI, 4AI/DI, 4DO, LCD Display 1.5″)
AWC Full controller (as AWC Basic but it can be integrated into exixting systems, no need monitoring, IP54, 4DI, 4AI/DI, 4PowerDO + 3DO, LCD Display 3.5″)